On May 8, 2018 Treasurer Scott Morrison brought down the 2018-19 Federal Budget. One of the proposed measures relating to superannuation was a fee 'cap' equal to 3.0% of a member's account balance.
To help provide clarity around the potential impacts on the industry, we have estimated the effect of the proposed fee cap on superannuation fund fee revenue.
The Budget proposal is for a 3.0% annual cap on the fees that funds can charge on accounts with balances of $6,000 or less, taking effect from July 1, 2019 and assessed semi-annually on the basis of 1.5% of account balances at the end of each six month period.
To understand the extent to which funds may be affected by changes pertaining to low balance accounts, we analysed account balance data across all of the funds we collect data from. The chart below shows that 22.1% of the median fund's total accounts hold less than $4,000, while 4.2% hold $4,001-$6,000 and a further 6.5% have a balance of between $6,001-$10,000. This illustrates the significant scope of the low account balance issue across the industry and highlights the potential impact this change may have.
Proportion of Member Accounts by Account Balance Thresholds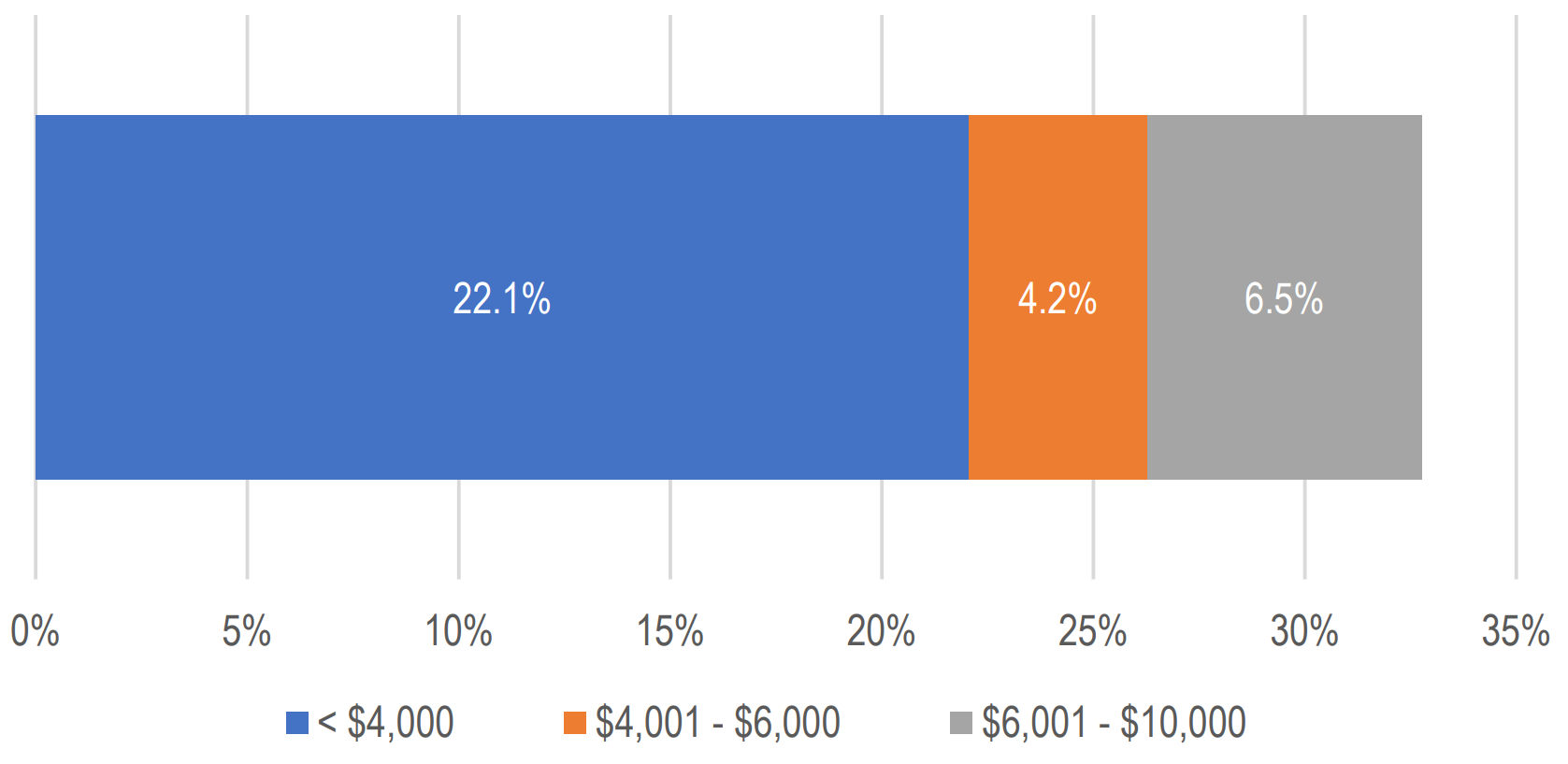 Source: SuperRatings
The chart above shows that just over a quarter of the median fund's accounts have a balance of $6,000 or less. To understand the current landscape further, we examined the total fees charged by funds on account balances ranging from $1,000 to $6,000.
We analysed the proportion of funds which are currently charging fees in excess of a proposed 3.0% annual cap across a number of small account balances (based on current PDS disclosures). The fees included in this analysis were fixed dollar administration fees, % based administration fees and investment management fees for the primary balanced-style options.
The draft legislation (Treasury Laws Amendment 2018 (Protecting Superannuation) Bill 2018) indicates the cap will be based on total administration and investment fees applied to members' accounts. We note that this would exclude indirect cost ratios (ICR), as by definition they are not fees. However, we also note that for some funds, indirect costs account for the entire asset-based fee component (as per our RG97 Insights analysis of November 2017). This would mean that for some funds, a significant cost component would not be included in the cap calculation, which would seem to defeat the stated purpose of the cap. On the other hand, it would be difficult for funds to selectively not pass on indirect costs to members who fell outside the cap, since these costs are deducted from the crediting rates or unit prices applied to all members. A periodic adjustment would need to be made to members' accounts falling within the $6,000 threshold; this poses computational and administrative challenges, particularly if current systems do not allow for this functionality. Although their inclusion complicates the implementation of this measure, their exclusion could lead to inconsistencies by funds as they attempt to ensure fee proportions remain within the 3% limit. We welcome the promised consultation with the industry to refine the Budget proposal.
To understand the potential impact of excluding indirect costs, we have undertaken analysis for both scenarios (i.e. including and excluding ICRs, the table below summarises the results. The analysis suggests that the inclusion of ICRs would increase the proportion of superannuation funds for which fees would sit above a 3% annual fee cap on a $6,000 account balance from 21.7% to 25.2%. Put another way, exclusion of ICRs would reduce the number of member accounts that would be eligible for a fee reduction by roughly 14%. The threshold is triggered by the majority of funds when account balances fall below $4,000 based on either calculation method.
Proportion of Funds Exceeding the Proposed Fee Cap


Source: SuperRatings
Given the prevalence of a $1.50 per week administration fee across the industry, the proposed cap presents a challenge for lower account balances. This fee would represent 3.0% of a client's account alone on a balance of $2,600. All sectors of the market would see impacts, meaning that the issue presents a challenge for Corporate, Government, Industry and Retail funds. It is interesting to note that the cap would mark a return to a form of 'member protection', which was phased out recently based on a recommendation of the Cooper review of the superannuation system.
We also calculated the range of fees charged on low balance accounts across the industry, with funds classified into quartiles based on the total fee charged as a proportion of the account balance. The chart below demonstrates the top quartile, bottom quartile and medians for accounts with balances ranging from $1,000 to $6,000. Note: the bottom quartile contains the funds with the highest proportion of fees relative to account balance.
When we examine all funds across the market the median fund sits within the proposed fee cap limit with fees representing 2.1% of a $6,000 account balance and the top quartile of funds has fees representing 1.6% or less, comfortably sitting below the fee cap limit. However, the bottom quartile of funds' fees represents 2.7% or more of low balance accounts.
Furthermore, following the recent removal of Member Protection for balances of $1,000 or less, these accounts are no longer protected by limits to the administrative fees that can be applied. A fee cap on balances up to $6,000 would provide protection for a broader cohort of members, but, given the current operating cost landscape for the industry, this change may present a material revenue challenge to a number of funds with high proportions of lower balance members.
Proposed Fee Cap against Current Fees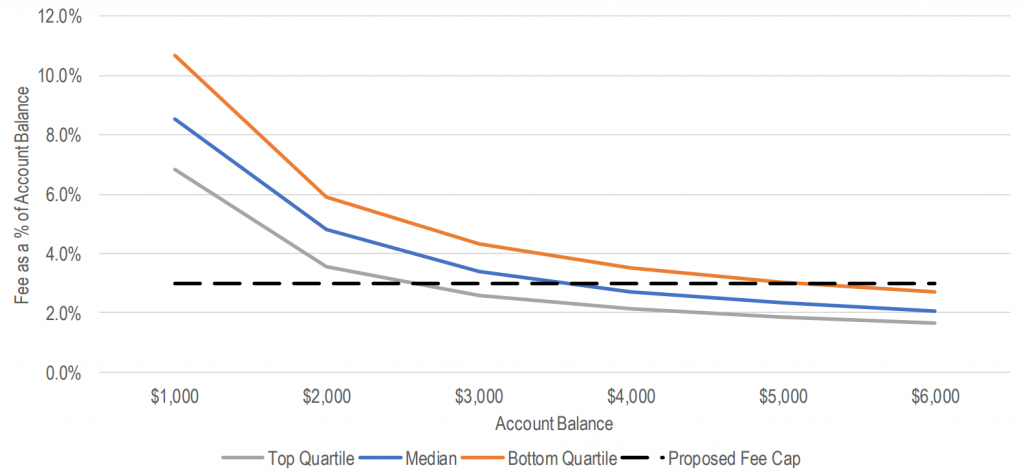 Source: SuperRatings
If you wish to learn more about our analysis, please feel free to contact Scott Abercrombie in our Sydney office on (02) 9247 4711 or at Scott.Abercrombie@superratings.com.au or Bill Buttler in our Melbourne office on (03) 9623 6304 or at Bill.Buttler@superratings.com.au.